Bed Bug Heat Treatment the Fastest Way to Eliminate Bed Bugs
Heat treatment is the most efficient and effective method to eliminate all bed bugs and their eggs in one visit only if performed by professionals. Our team is trained and experienced in using our heat treatment technology, and understand the importance of eliminating bed bugs while keeping your belongings safe. Heat treatment is the most efficient method to eliminate bed bugs because they typically are able to resist chemical treatments but are very sensitive to the high heat used by our team through our heat treatments.
How Does It Work?
When we visit your home, our team uses specialized equipment designed to heat the infected areas of your home up to 150 degrees killing all stages of the bed bugs from adults, nymphs, and eggs. Heat reaches all bed bug hiding places in the furniture, flooring, walls, and ceiling. Typically all stages of bed bugs will be eliminated within 8 hours with our heat treatment. All of our team's heat treatment equipment comes with safety features, for example thermostats, and other important sensors that control the temperature to maintain exactly 150 degrees and successfully target the infested area.
Traditional bed bug chemical treatments require several applications to make sure the problem is fully eliminated. Heat Treatment takes one visit and kills all stages of bed bugs.
When you treat your entire home we include an 18 month warranty
Our team is committed to maintaining satisfied customers. We offer an 18 month warranty for customers who treat their entire home. We also offer you the ability to extend this warranty period near the end of your warranty period.
Advantages of Heat Treatment:
Eliminates bed bugs and their eggs within hours.
Chemical treatment is optional alongside heat treatment.
Our trucks are discreet and none of our equipment say "bed bugs," or includes pictures of bugs. We know how important it is to keep a bed bug problem private.
No need to throw away your mattress of furniture.
Normally only one heat treatment is needed.
We can assist you in finding a solution for caning detection using a third party to ensure valid canine testing.
Our team offers an 18 month warranty when your entire home it heat treated.
Heat treatment penetrates difficult to areas such as walls, ceilings, and furniture.
Our Experience

Our team has completed over 12,000 bed bug heat treatments in Arizona and Texas. This experience sets our team apart from other companies. Pest control companies that do not focus strictly on bed bugs do not have the experience using heat treatment equipment and can cause structural and damage to furniture. Our team follows strict protocol to ensure all bed bugs are eliminated and your home and belongings are safe.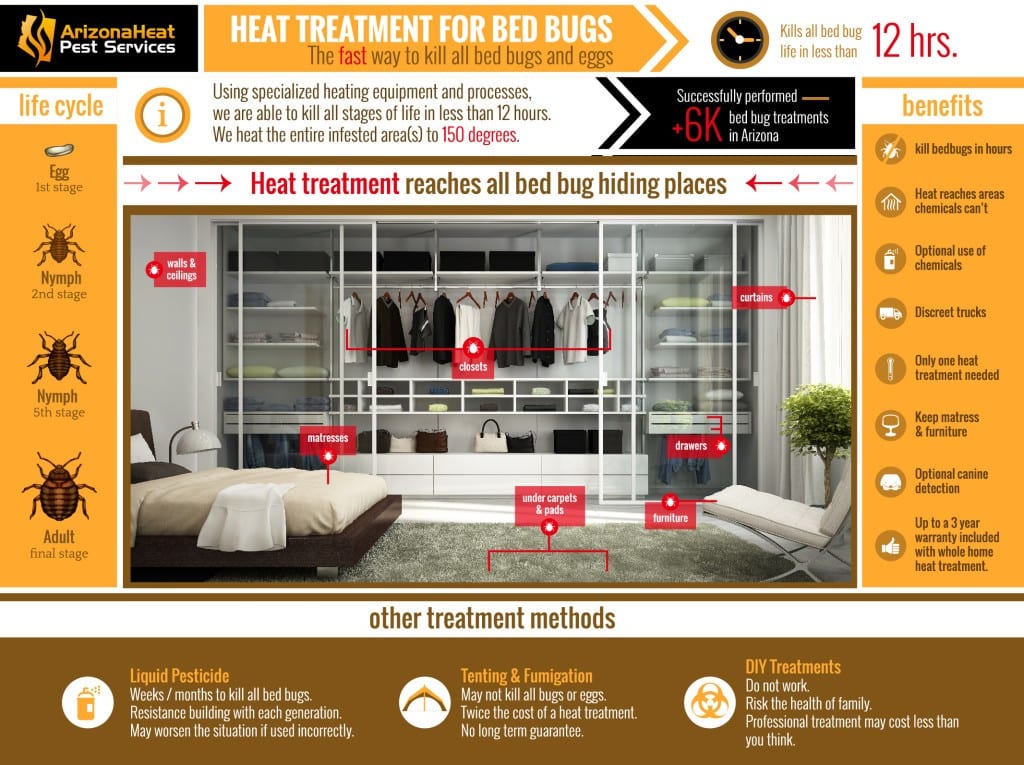 Watch the video below to see our signature heat treatment in action: